Hot Diggity!
"Emotionally affecting and profound" Amazon reviewer, G S Brooke
"A surprising tenderness makes the entire album a delight to listen to." Donna Litt, author
The new album, "Summary Of The First Half", is available on all the major music download and streaming services.
Track List:
Elusary Moment (2014) 2:38
Long Path to Hopeful Horizons (2012) 2:32
Montgomery Dusk (2015) 2:22
Still Pool In Sacred Woods (2015) 3:44
The Healing Begins (2015) 3:23
Discarding Nostalgia (2015) 1:45
Requiem for Jackie (1998) 3:28
Murmuration (2012) 2:24
---
PROMOTIONAL OFFER
I am giving a free e-book to the first 500 people who help promote the album by writing a review on Amazon, rating on iTunes, share on Facebook, Tweet on Twitter, or write a blog post reviewing the music. Tell me where you shared and send me your email address and I'll put this e-book in your inbox! This is an exclusive e-book including an introduction, explanations of each piece, and the piano score for all eight of the pieces included on the album. Get yours!
---
A Limited Time Offer!
To promote the upcoming film, "Care For The Child: The Story of the Bridgeport General", I am giving away the sheet music package for "Bridgeport Rag" which I composed for the film's score. It's the new theme song for the Old Village of Bridgeport!
You can also pre-order a copy of the film.
I'm a pianist and composer from Ontario, Canada.
---
In addition to composing music, I enjoy reading, coding, and gardening. I'm a voracious learner, always exploring new ideas and diversions.
In my professional life, I work for a software company in Ontario, Canada as an application developer / software engineer. I am the founder and administrator of a popular online e-commerce platform called Scubbly, I contribute to a few open-source projects, I'm co-organizer of a local technology special interest group, and I'm also a volunteer moderator at WebmasterWorld.
Sorry ladies — I am blissfully married to an amazing woman, we have two feisty daughters, and one cat.
Works for Solo Piano
Opus Arcana
The Opus Arcana project has begun! I am working away at composing 22 pieces of music for solo piano, inspired by the Major Arcana. As each piece is published, it will be added to the table below.
Influences
My compositions are informed by Conservatory Piano and academic musical training (University of Waterloo), plus many years of experience performing (on multiple instruments, in many roles) and arranging for a small jazz ensemble. Consequently I draw influence from many eras of the piano repertoire including Classical, Romantic, Impressionist, Modern, and Minimalist styles. Among my favourite composers are Ravel, Debussy, Chopin, Bartók, Satie, Janáček. The way in which I voice chords and harmonic progression are strongly influenced by postwar cool jazz, including Dave Brubeck, George Shearing. Among contemporary musicians, my composition style is influenced by Ryuichi Sakamoto, Harold Budd, Michael Brook and Robin Guthrie, among many others.
My Process
I can't predict when a melody will nudge its way into my mind, but when it does I grab it and sit at the piano to explore its personality. While I avoid making what they call "Program Music" that follows a specific narrative, I always like to have non-musical imagery in mind when bulding a piece, whether that is a moment in time, a visual image, or something else that has an emotional charge. Sometimes the emotional imagery emerges right from the start, and sometimes it forms later in the process, but I always try to have it before the end so I can gauge whether the piece has sufficiently evoked something.
While crafting the composition, I will move back and forth between the piano keyboard and a MIDI "piano roll" editor. The keyboard is where I draw out inspiration by allowing my mind to wander and fingers to experiment. Eventually I'll have the nucleus of a musical idea which I'll sequence digitally and bring into a MIDI editor. In the MIDI "piano roll" editor, I'll move notes around precisely to draw out harmonic and rhythmic ideas without having to worry about the limitations of my manual dexterity. As the piece progresses I'll frequently bring the composition back to the piano to make sure that my fingers can actually do what I've imagined. Removing myself from the piano is an important step that frees me from physical limitations, but also saves the piece from being enslaved by patterns ingrained into my finger muscles. The process ends when I've captured the mood.
As with any artistic process there's a time when you need to declare "done" - for me that moment is when I feel that I've sufficiently evoked the intended emotion, and there are no notes I want to add, modify or remove. I will step through the entire piece and ask if every single note is serving a purpose, assess if it should be omitted or changed. If I'm satisfied with the entire thing, the MIDI piano roll is exported for typesetting. The MIDI playback is typically quite robotic, so I always bring the finished score back to the piano to capture a human performance of it. Then I'll quantize and fuss over that for a while to get the rhythm and expression perfect - it's a keyboardist's equivalent of "autotune". What you hear in the demo reels is my own performance of the piece, but it's not a live performance - it's been touched up and enhanced.
Other Projects
Star Notation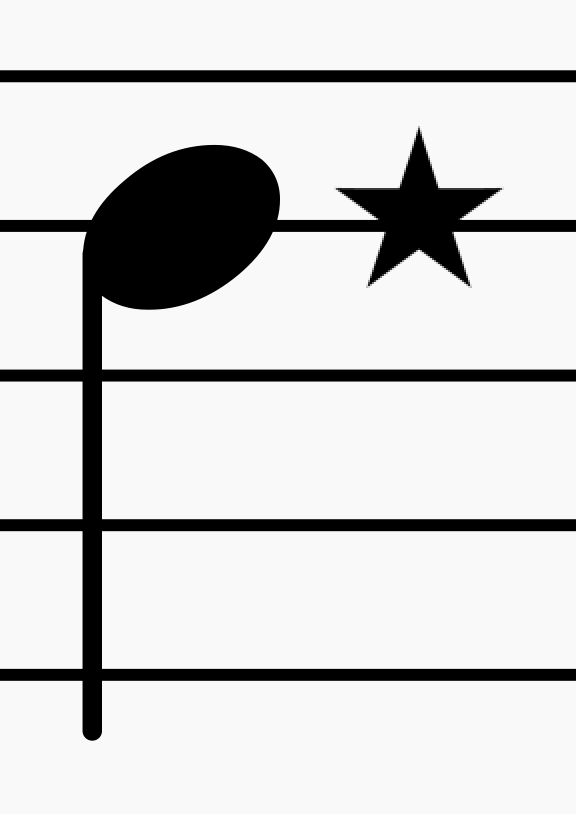 A new notation standard for notes and rests encompassing 5 rhythmic subdivisions.
If you are capable and willing, please contribute to these Open Source projects to create plugins for:
Grawlix Music Fonts
Music notation fonts, available for sale at my Scubbly store.
I've got Rhythm
True Type Font for typesetting rhythm exercises. Perfectly spaced characters for whole, half, quarter, eighth and sixteenth notes, in common groupings and tuplets. Originally designed for printing clapping exercises for music instruction. Create professional rhythm notation in the comfort of your word processor.
Times Music Theory
True Type Font, created for writing chord symbols. Contains all the glyphs for writing chord symbols for most chords used in Western music. Professionally designed by a music typesetter. Face resembles Times New Roman.
PHPMusicXML
Open-source library for manipulating MusicXML files, using PHP.
Press
Composer Embarks on Legacy Project - Kitchener Post, 2015-07-09
Local Composer To Create Piano Scores Based On Tarot Cards - Kitchener Citizen, 2015-07-09

Beginning A New Project: Opus Arcana

- The Music Times, 2015-11-01