If you are looking for the music producer/mixer + sound engineer from Cork, Ireland? That ain't me. You're looking for the other Ian Ring
Ian Ring
Composer
"Whatever the character, from dreamy sostenutos to quirky scherzos his music is full of life."
William Moody, virtuoso pianist
"What surprised me most was how many feelings it stirs up. It takes you on a journey, which I guess a good album is meant to do but this one really struck me that way."
J. Hewitt, Amazon reviewer
"Emotionally affecting and profound, this is a wonderful album."
Garreth Brooke, composer & pianist
"Ian Ring's Temperance is a genuine delight to play, it starts off very simply before opening out into some wonderfully rich harmony."
PianoDao, review of "Upright"
"A surprising tenderness makes the entire album a delight to listen to."
Donna Fung, author
"An absolute joy and a pleasure to listen to."
Chris Powell, music aficionado and environmental activist
"Ian Ring is a gifted composer. His piano music is colourful, detailed, full of nuances and easy on the ear."
William Moody, virtuoso pianist
"Ian has done an exceptional job, expressing a great deal of archetypal quality in these short pieces [Opus Arcana]."
Ursula Rising, tarot expert
"It's like being welcomed into paradise."
William Moody, pianist & composer
"All in all, this collection is a significant and valuable composition."
Robert Cunningham, pianist
"Excellent, reflective music"
B. Caughill, Amazon reviewer
Bio & CV
Ian's composition style evolved from origins in classical performance, shaped by a penchant for jazz arrangement and appreciation of popular alternative genres. Educated at The Beckett School and The University of Waterloo, now living and working in Kitchener, Ontario, Canada. Ian is a dedicated self-publisher, and diligently does all his own recording, audio engineering, music engraving, and publishing through his Stirling Music label.
Download entire press kit (ZIP) or grab the files individually.
Contributions / Collaborations / CV
Recording | Composition | Live performance | Other
2020-10-30 Interference, Ian Ring (solo). EP. Five instrumental impressions, ranging in mood from neo-ambient to low-fi shoegaze.
2019-01-21 Europa And The Pirate Twins, Ian Ring (solo). Single. Cover of a song by Thomas Dolby.
2018-11-07 Laughter And Forgetting, Ian Ring and Derek Hines. Single. Cover of a song by David Sylvian.
2018-07-13 Red Guitar, Ian Ring (solo). Single. Cover of a song by David Sylvian.
2018-03-20 Opus Arcana, book of sheet music. Gala release party @ Jane Bond, Waterloo.
2018-01-11 Care For The Child, OST. Remixed material from the film score. Inludes one song by The MacQueens.
2018-01-11 Care For The Child, film score. Premiered at Princess Cinema, Waterloo.
2016-08-18 Summary of the First Half, album of recordings. Compositions for solo piano composed 1998 - 2015. 100% performed, produced, recorded by Ian Ring.
2002 - 2003 Octopop. 80s new wave cover act. Meticulous recreations of retro hits on authentic period instruments. Only a few memorable live shows.
1998-05-26 An Evening of Jazz ft Derek Hines and Ian Ring, a ticketed event at the Waterloo Theatre. Featuring an entire evening of custom arrangements for jazz band by Ian Ring.
1998-12-08 Cocktails at Pam's at the Waterloo Stage Theatre. Duet of Derek Hines and Ian Ring, a three-song lounge set which flowed straight into the dramatic play without interruption. Performed for the entire run of the production; directed by Brian VanNorman.
1996 - 2001 Derek Hines. Primary pianist and arranger for the legendary vocalist. Mostly jazz standards, a few originals. Many hundreds of gigs all over southwestern Ontario.
1995 Giesbrecht And His Fab Orchestra Do A-go-go Hits, Chris Giesbrecht. Saxophone, Vocals, tuned beer bottles, etc.
1993 YTV Achievement Awards. Dervishes, winner in the Band category. Award ceremony in Ottawa, live performance on national television.
1992 Incidental music for The Glass Menagerie, composed by Ian Ring and John Wrinch Williams. Sampler, keyboard, misc electronic instruments. Saxophone performed live.
1992 Fool. Commissioned for FreeFlow Dance Company, for choreography of the same name.
1990 - 1994 The Dervishes. Saxophonist, backup vocals, and misc instrumentation. Live band with a Heavy Funk sound. Many hundreds of live gigs around Southwestern Ontario.
1990 An April March. Saxophonist. Live "shoegaze pop" band with goth roots. Occasional live gigs around Kitchener, Waterloo, Toronto.
1989 - 1990 Random Order. Saxophonist. Power pop band with raggae + ska influences, featuring Lynx Dean. Based in Toronto, live gigs around Southwestern Ontario, primarily in Toronto.
Other Projects
The Exciting Universe Of Music Theory
More than you probably ever need to know
A deep look at scales, using computer processing to analyze every possible combination of tones. Topics include: symmetry, truncations, chirality, imperfection, interval spectra, proximity and modes.
Peruse the YouTube channel with over 1400 videos showing the properties of specific musical scales.
Star Dots
A new standard for notating quintuple durations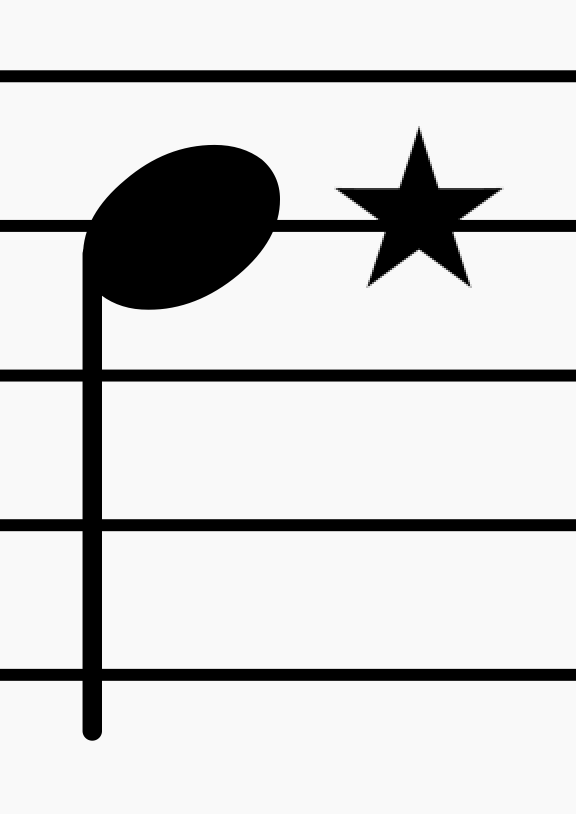 A new notation standard for notes and rests encompassing 5 rhythmic subdivisions.
Press
Garreth Brooke's "Upright" Project - PianoDao, 2018-06-02


reviewing a compendium of music featuring "Temperance" from Opus Arcana

Pieter Nooten – Stem - FREQ, 2018-06-01


a review of Pieter's album, specifically mentioning my piano contributions

The Bridgeport General finally gets his due on the big screen - Waterloo Chronicle, 2018-01-22
Astonishing response to made-in-Waterloo doc - The Record, 2018-01-05
Opus Arcana - The Music Times, 2018-01-01
Composer Embarks on Legacy Project - Kitchener Post, 2015-07-09
Local Composer To Create Piano Scores Based On Tarot Cards - Kitchener Citizen, 2015-07-09
Beginning A New Project: Opus Arcana - The Music Times, 2015-11-01
Cocktails at Pam's - Stage Door, 1998-12-01


a review of "Cocktails At Pam's", featuring Derek Hines and Ian Ring, Waterloo Theatre.

Cocktails at Pam's - Imprint, 1998-12-02


another review of "Cocktails at Pam's".

Scat Sisters and B-Bop brothers - Imprint, 1998-06-01


a review of Derek Hines and Ian Ring at the Waterloo Theatre

Unwhirled (Review) - Imprint, 1993-10-22


a review of Dervishes' Unwhirled album

Magic Menagerie - Cord, 1992-09-17


a review of The Glass Menagerie, which featured an original score composed by Ian Ring and John W Williams