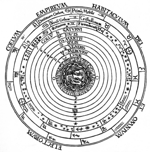 The Exciting Universe Of Music Theory
Yes, you heard right. I'm working on a Music Theory book.
It's been in progress for well over 4 years already, and it is - for better or worse - going to be a massive tome with a ton of topics covered. If you're interested in the stuff you see on this site, then you'll like it.
I occasionally post updates on the book to my patrons. Bonus: if you become a patron - no matter what pledge amount or for how long - you'll get a free e-copy when the thing is finished.