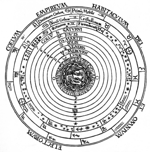 The Exciting Universe Of Music Theory
Jump to: Unknown / Unsorted | Azerbaijan | African | Arabic | Carnatic | Carnatic Melakarta | Carnatic Numbered Melakarta | Chinese | Chord Names | Named After Composers | Dozenal | East European | Egyptian | Ethiopian | Exoticisms | Ancient Greek | Modern Greek | Gregorian Numbered | Hindustani | Indonesian | Intervals | Iranian | Japanese | Jazz and Blues | Jewish | Korean | Medieval | Messiaen | Myanmar | North American | Schenkerian | Southeast Asia | Thailand | Turkish | Vietnamese | Western | Western Altered | Western Mixed | Western Modern | Western Chromatic | Zeitler | 12Tone |
Warning: This part of the site is under construction and very much incomplete. There may be errors.
Scale Name Tradition: Western Modern
These scales are based on names from the old western modes, but sometimes have "Super" or "Ultra" or "Hyper" added, "Altered", "Diminished", "Half-Diminished", and other indications that the scale is slightly different from its diatonic namesake. Also includes names that have been derived from modern Western musical traditions, including Postmodern and Serialism.
| | | | |
| --- | --- | --- | --- |
| | 1 | Unison | |
| | 1 | Monotonic | |
| | 3 | Hemitone Prime | |
| | 3 | Duotonic Chromatic | |
| | 7 | Tritonic Chromatic | |
| | 7 | Chromatic Trichord | |
| | 11 | Octatonic Trichord | |
| | 15 | Tetratonic Chromatic | |
| | 19 | Hexatonic Trichord | |
| | 21 | Wholetone Trichord | |
| | 31 | Pentatonic Chromatic | |
| | 35 | Major Seventh Trichord | |
| | 37 | Minor Seventh Trichord | |
| | 63 | Hexatonic Chromatic | |
| | 67 | Viennese Trichord | |
| | 83 | All-Interval Tetrachord 1 | |
| | 101 | All-Interval Tetrachord 3 | |
| | 127 | Heptatonic Chromatic | |
| | 139 | All-Interval Tetrachord 2 | |
| | 209 | All-Interval Tetrachord 4 | |
| | 255 | Chromatic Octamode | |
| | 255 | Octatonic Chromatic | |
| | 331 | Locrian Pentatonic 1 | |
| | 395 | Phrygian Pentatonic | |
| | 397 | Aeolian Pentatonic | |
| | 407 | All-Trichord Hexachord | |
| | 455 | Two-semitone Tritone Scale | |
| | 511 | Chromatic Nonamode | |
| | 511 | Nonatonic Chromatic | |
| | 619 | Double-Phrygian Hexatonic | |
| | 619 | Hexatonic Double Phrygian | |
| | 621 | Pyramid Hexatonic | |
| | 653 | Dorian Pentatonic | |
| | 675 | Altered Pentatonic | |
| | 677 | Major Complement | |
| | 681 | Minor Added Sixth Pentatonic | |
| | 731 | Alternating Heptamode | |
| | 819 | Augmented Inverse | |
| | 819 | Six Tone Symmetrical | |
| | 859 | Ultralocrian | |
| | 859 | Superlocrian Diminished | |
| | 859 | Superlocrian Double-flat | |
| | 859 | Diminished Locrian | |
| | 923 | Ultraphrygian | |
| | 1023 | Chromatic Decamode | |
| | 1023 | Decatonic Chromatic | |
| | 1113 | Locrian Pentatonic 2 | |
| | 1115 | Superlocrian Hexamirror | |
| | 1173 | Dominant Pentatonic | |
| | 1189 | Suspended Pentatonic | |
| | 1193 | Minor Pentatonic | |
| | 1193 | Pentatonic Minor | |
| | 1197 | Minor Hexatonic | |
| | 1201 | Mixolydian Pentatonic | |
| | 1211 | Ceiling Scale | |
| | 1235 | Tritone Scale | |
| | 1321 | Phrygian Pentatonic | |
| | 1365 | Anhemitonic Hexatonic | |
| | 1365 | Anhemic Hexatonic | |
| | 1365 | Auxiliary Augmented | |
| | 1367 | Leading Whole-Tone Inverse | |
| | 1371 | Superlocrian | |
| | 1371 | Diminished Whole-tone | |
| | 1371 | Altered | |
| | 1389 | Minor Locrian | |
| | 1389 | Half Diminished | |
| | 1397 | Major Locrian | |
| | 1449 | Phrygian Hexatonic | |
| | 1451 | Major Inverse | |
| | 1455 | Quartal Octamode | |
| | 1459 | Phrygian Dominant | |
| | 1459 | Phrygian Major | |
| | 1459 | Harmonic Major Inverse | |
| | 1461 | Melodic Major | |
| | 1493 | Lydian Minor | |
| | 1493 | Minor Lydian | |
| | 1499 | Altered Dominant B | |
| | 1625 | Hungarian Major No5 | |
| | 1701 | Mixolydian Hexatonic | |
| | 1715 | Harmonic Minor Inverse | |
| | 1717 | Hypermixolydian | |
| | 1741 | Lydian Diminished | |
| | 1741 | Altered Dorian | |
| | 1749 | Acoustic | |
| | 1749 | Lydian Dominant | |
| | 1749 | Overtone Scale | |
| | 1749 | Overtone | |
| | 1749 | Overtone Dominant | |
| | 1755 | Octatonic | |
| | 1755 | Dominant Diminished | |
| | 1755 | Half-Whole Step Scale | |
| | 1755 | Dominant | |
| | 1995 | Dimygian | |
| | 2047 | Chromatic Undecamode | |
| | 2047 | Undecatonic Chromatic | |
| | 2049 | Duotonic Chromatic Descending | |
| | 2051 | Tritonic Chromatic 2 | |
| | 2055 | Tetratonic Chromatic 2 | |
| | 2063 | Pentatonic Chromatic 2 | |
| | 2079 | Hexatonic Chromatic 4 | |
| | 2111 | Heptatonic Chromatic 2 | |
| | 2175 | Octatonic Chromatic 2 | |
| | 2225 | Ionian Pentatonic | |
| | 2257 | Lydian Pentatonic | |
| | 2257 | Augmented | |
| | 2303 | Nonatonic Chromatic 2 | |
| | 2457 | Augmented | |
| | 2483 | Double Harmonic | |
| | 2483 | Double Harmonic Major | |
| | 2483 | Enigmatic | |
| | 2507 | Harsh Minor | |
| | 2509 | Double Harmonic Minor | |
| | 2517 | Harmonic Lydian | |
| | 2523 | Mirage Scale | |
| | 2559 | Decatonic Chromatic 2 | |
| | 2709 | Lydian Hexatonic | |
| | 2731 | Neapolitan Major | |
| | 2731 | Major Meapolitan | |
| | 2731 | Lydian Major | |
| | 2739 | Major-Melodic Phrygian | |
| | 2745 | Major #2 | |
| | 2765 | Lydian Diminished | |
| | 2777 | Aeolian Harmonic | |
| | 2795 | Locrian Modified | |
| | 2869 | Major Augmented | |
| | 2869 | Ionian Augmented | |
| | 2901 | Lydian Augmented | |
| | 2925 | Diminished | |
| | 2925 | Octatonic | |
| | 2925 | Whole-Half Step Scale | |
| | 2925 | Auxiliary Diminished | |
| | 2997 | Altered Mixolydian | |
| | 2999 | Diminishing Nonamode | |
| | 3037 | Nine Tone Scale | |
| | 3071 | Chromatic Undecamode 2 | |
| | 3071 | Undecatonic Chromatic 2 | |
| | 3073 | Tritonic Chromatic Descending | |
| | 3075 | Tetratonic Chromatic 3 | |
| | 3079 | Pentatonic Chromatic 3 | |
| | 3087 | Hexatonic Chromatic 3 | |
| | 3103 | Heptatonic Chromatic 3 | |
| | 3135 | Octatonic Chromatic 3 | |
| | 3199 | Nonatonic Chromatic 3 | |
| | 3277 | Howaboot Scale | |
| | 3327 | Decatonic Chromatic 3 | |
| | 3351 | Crater Scale | |
| | 3413 | Leading Whole-tone | |
| | 3413 | Major Locrian | |
| | 3575 | Symmetrical Decatonic | |
| | 3583 | Chromatic Undecamode 3 | |
| | 3583 | Undecatonic Chromatic 3 | |
| | 3585 | Tetratonic Chromatic Descending | |
| | 3587 | Pentatonic Chromatic 4 | |
| | 3599 | Heptatonic Chromatic 4 | |
| | 3615 | Octatonic Chromatic 4 | |
| | 3647 | Nonatonic Chromatic 4 | |
| | 3711 | Decatonic Chromatic 4 | |
| | 3837 | Minor Pentatonic With Leading Tones | |
| | 3839 | Chromatic Undecamode 4 | |
| | 3839 | Undecatonic Chromatic 4 | |
| | 3841 | Pentatonic Chromatic Descending | |
| | 3843 | Hexatonic Chromatic 5 | |
| | 3847 | Heptatonic Chromatic 5 | |
| | 3855 | Octatonic Chromatic 5 | |
| | 3871 | Nonatonic Chromatic 5 | |
| | 3903 | Decatonic Chromatic 5 | |
| | 3967 | Chromatic Undecamode 5 | |
| | 3967 | Undecatonic Chromatic 5 | |
| | 3969 | Hexatonic Chromatic Descending | |
| | 3971 | Heptatonic Chromatic 6 | |
| | 3975 | Octatonic Chromatic 6 | |
| | 3983 | Nonatonic Chromatic 6 | |
| | 3999 | Decatonic Chromatic 6 | |
| | 4013 | Full Minor | |
| | 4031 | Chromatic Undecamode 6 | |
| | 4031 | Undecatonic Chromatic 6 | |
| | 4033 | Heptatonic Chromatic Descending | |
| | 4035 | Octatonic Chromatic 7 | |
| | 4039 | Nonatonic Chromatic 7 | |
| | 4047 | Decatonic Chromatic 7 | |
| | 4063 | Chromatic Undecamode 7 | |
| | 4063 | Undecatonic Chromatic 7 | |
| | 4065 | Octatonic Chromatic Descending | |
| | 4067 | Nonatonic Chromatic 8 | |
| | 4071 | Decatonic Chromatic 8 | |
| | 4079 | Chromatic Undecamode 8 | |
| | 4079 | Undecatonic Chromatic 8 | |
| | 4081 | Nonatonic Chromatic Descending | |
| | 4083 | Decatonic Chromatic 9 | |
| | 4087 | Chromatic Undecamode 9 | |
| | 4087 | Undecatonic Chromatic 9 | |
| | 4089 | Decatonic Chromatic Descending | |
| | 4091 | Chromatic Undecamode 10 | |
| | 4091 | Undecatonic Chromatic 10 | |
| | 4093 | Chromatic Undecamode 11 | |
| | 4093 | Undecatonic Chromatic Descending | |