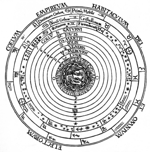 The Exciting Universe Of Music Theory
Jump to: Unknown / Unsorted | Azerbaijan | African | Arabic | Carnatic | Carnatic Melakarta | Carnatic Numbered Melakarta | Chinese | Chord Names | Named After Composers | Dozenal | East European | Egyptian | Ethiopian | Exoticisms | Ancient Greek | Modern Greek | Gregorian Numbered | Hindustani | Indonesian | Intervals | Iranian | Japanese | Jazz and Blues | Jewish | Korean | Medieval | Messiaen | Myanmar | North American | Schenkerian | Southeast Asia | Thailand | Turkish | Vietnamese | Western | Western Altered | Western Mixed | Western Modern | Western Chromatic | Zeitler | 12Tone |
Warning: This part of the site is under construction and very much incomplete. There may be errors.
Scale Name Tradition: Carnatic Melakarta
A collection of 72 parent scales in the katapayado system originating in southern India. They keep the Sa and Pa (1st and 5th) fixed, while allowing for two variants of Ma (4th) and three each for the other tones - Ri, Ga, Dha, and Ni (2nd, 3rd, 6th, and 7th). These scales are also assigned a numeric position in the set.
935
Kanakangi
{0,1,2,5,7,8,9}
939
Senavati
{0,1,3,5,7,8,9}
941
Jhankaradhwani
{0,2,3,5,7,8,9}
947
Gayakapriya
{0,1,4,5,7,8,9}
949
Mararanjani
{0,2,4,5,7,8,9}
953
Yagapriya
{0,3,4,5,7,8,9}
967
Salagam
{0,1,2,6,7,8,9}
971
Gavambhodi
{0,1,3,6,7,8,9}
973
Sh?malangi
{0,2,3,6,7,8,9}
979
Dhavalambari
{0,1,4,6,7,8,9}
981
Kantamani
{0,2,4,6,7,8,9}
985
Sucharitra
{0,3,4,6,7,8,9}
1447
Ratnangi
{0,1,2,5,7,8,10}
1451
Hanumatodi
{0,1,3,5,7,8,10}
1453
Natabhairavi
{0,2,3,5,7,8,10}
1459
Vakulabharanam
{0,1,4,5,7,8,10}
1461
Charukesi
{0,2,4,5,7,8,10}
1465
Ragavardhini
{0,3,4,5,7,8,10}
1479
Jalarnavam
{0,1,2,6,7,8,10}
1483
Bhavapriya
{0,1,3,6,7,8,10}
1485
Shanmukhapriya
{0,2,3,6,7,8,10}
1491
Namanarayani
{0,1,4,6,7,8,10}
1493
Rishabhapriya
{0,2,4,6,7,8,10}
1497
Jyoti Swarupini
{0,3,4,6,7,8,10}
1703
Vanaspati
{0,1,2,5,7,9,10}
1707
Natakapriya
{0,1,3,5,7,9,10}
1709
Kharaharapriya
{0,2,3,5,7,9,10}
1715
Chakravakam
{0,1,4,5,7,9,10}
1717
Harikambhoji
{0,2,4,5,7,9,10}
1721
Vagadheeswari
{0,3,4,5,7,9,10}
1735
Navaneetam
{0,1,2,6,7,9,10}
1739
Shadvidamargini
{0,1,3,6,7,9,10}
1741
Hemavati
{0,2,3,6,7,9,10}
1747
Ramapriya
{0,1,4,6,7,9,10}
1749
Vachaspati
{0,2,4,6,7,9,10}
1753
Nasikabhushini
{0,3,4,6,7,9,10}
2471
Ganamurti
{0,1,2,5,7,8,11}
2475
Dhenuka
{0,1,3,5,7,8,11}
2477
Keeravani
{0,2,3,5,7,8,11}
2483
Mayamalavagowla
{0,1,4,5,7,8,11}
2485
Sarasangi
{0,2,4,5,7,8,11}
2489
Gangeyabhushani
{0,3,4,5,7,8,11}
2503
Jhalavarali
{0,1,2,6,7,8,11}
2507
Shubhapantuvarali
{0,1,3,6,7,8,11}
2509
Simhendramadhyamam
{0,2,3,6,7,8,11}
2515
Kamavardhini
{0,1,4,6,7,8,11}
2517
Latangi
{0,2,4,6,7,8,11}
2521
Dhatuvardani
{0,3,4,6,7,8,11}
2727
Mela Manavati
Manavati
{0,1,2,5,7,9,11}
2731
Kokilapriya
{0,1,3,5,7,9,11}
2733
Gourimanohari
{0,2,3,5,7,9,11}
2739
Suryakantam
{0,1,4,5,7,9,11}
2741
Dheerasankarabaranam
{0,2,4,5,7,9,11}
2745
Shulini
{0,3,4,5,7,9,11}
2759
Pavani
{0,1,2,6,7,9,11}
2763
Suvarnangi
{0,1,3,6,7,9,11}
2765
Dharmavati
{0,2,3,6,7,9,11}
2771
Gamanashrama
{0,1,4,6,7,9,11}
2773
Mechakalyani
{0,2,4,6,7,9,11}
2777
Kosalam
{0,3,4,6,7,9,11}
3239
Tanarupi
{0,1,2,5,7,10,11}
3243
Rupavati
{0,1,3,5,7,10,11}
3245
Varunapriya
{0,2,3,5,7,10,11}
3251
Hatakambari
{0,1,4,5,7,10,11}
3253
Naganandini
{0,2,4,5,7,10,11}
3257
Chalanata
{0,3,4,5,7,10,11}
3271
Raghupriya
{0,1,2,6,7,10,11}
3275
Divyamani
{0,1,3,6,7,10,11}
3277
Neetimati
{0,2,3,6,7,10,11}
3283
Vishwambari
{0,1,4,6,7,10,11}
3285
Chitrambari
{0,2,4,6,7,10,11}
3289
Rasikapriya
{0,3,4,6,7,10,11}