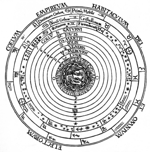 The Exciting Universe Of Music Theory
Jump to: Unknown / Unsorted | Azerbaijan | African | Arabic | Carnatic | Carnatic Melakarta | Carnatic Numbered Melakarta | Chinese | Chord Names | Named After Composers | Dozenal | East European | Egyptian | Ethiopian | Exoticisms | Ancient Greek | Modern Greek | Gregorian Numbered | Hindustani | Indonesian | Intervals | Iranian | Japanese | Jazz and Blues | Jewish | Korean | Medieval | Messiaen | Myanmar | North American | Schenkerian | Southeast Asia | Thailand | Turkish | Vietnamese | Western | Western Altered | Western Mixed | Western Modern | Western Chromatic | Zeitler | 12Tone |
Warning: This part of the site is under construction and very much incomplete. There may be errors.
Scale Name Tradition: Carnatic Numbered Melakarta
The melakarta are a set of 72 "parent" scales in the katapayadi system originating from southern India. They keep the Sa and Pa (1st and 5th) fixed, while allowing for two variants of Ma (4th) and three each for the other tones - Ri, Ga, Dha, and Ni (2nd, 3rd, 6th, and 7th). In addition to a numeric name, these scales also have a name, such as Kanakangi, Ratnangi, Ganamurti, etc.
| | | | | | |
| --- | --- | --- | --- | --- | --- |
| | 935 | 1st Melakarta raga | | {0,1,2,5,7,8,9} | |
| | 939 | 7th Melakarta raga | | {0,1,3,5,7,8,9} | |
| | 941 | 19th Melakarta raga | | {0,2,3,5,7,8,9} | |
| | 947 | 13th Melakarta raga | | {0,1,4,5,7,8,9} | |
| | 949 | 25th Melakarta raga | | {0,2,4,5,7,8,9} | |
| | 953 | 31st Melakarta raga | | {0,3,4,5,7,8,9} | |
| | 967 | 37th Melakarta raga | | {0,1,2,6,7,8,9} | |
| | 971 | 43rd Melakarta raga | | {0,1,3,6,7,8,9} | |
| | 973 | 55th Melakarta raga | | {0,2,3,6,7,8,9} | |
| | 979 | 49th Melakarta raga | | {0,1,4,6,7,8,9} | |
| | 981 | 61st Melakarta raga | | {0,2,4,6,7,8,9} | |
| | 985 | 67th Melakarta raga | | {0,3,4,6,7,8,9} | |
| | 1447 | 2nd Melakarta raga | | {0,1,2,5,7,8,10} | |
| | 1451 | 8th Melakarta raga | | {0,1,3,5,7,8,10} | |
| | 1453 | 20th Melakarta raga | | {0,2,3,5,7,8,10} | |
| | 1459 | 14th Melakarta raga | | {0,1,4,5,7,8,10} | |
| | 1461 | 26th Melakarta raga | | {0,2,4,5,7,8,10} | |
| | 1465 | 32nd Melakarta raga | | {0,3,4,5,7,8,10} | |
| | 1479 | 38th Melakarta raga | | {0,1,2,6,7,8,10} | |
| | 1483 | 44th Melakarta raga | | {0,1,3,6,7,8,10} | |
| | 1485 | 56th Melakarta raga | | {0,2,3,6,7,8,10} | |
| | 1491 | 50th Melakarta raga | | {0,1,4,6,7,8,10} | |
| | 1493 | 62nd Melakarta raga | | {0,2,4,6,7,8,10} | |
| | 1497 | 68th Melakarta raga | | {0,3,4,6,7,8,10} | |
| | 1703 | 4th Melakarta raga | | {0,1,2,5,7,9,10} | |
| | 1707 | 10th Melakarta raga | | {0,1,3,5,7,9,10} | |
| | 1709 | 22nd Melakarta raga | | {0,2,3,5,7,9,10} | |
| | 1715 | 16th Melakarta raga | | {0,1,4,5,7,9,10} | |
| | 1717 | 28th Melakarta raga | | {0,2,4,5,7,9,10} | |
| | 1721 | 34th Melakarta raga | | {0,3,4,5,7,9,10} | |
| | 1735 | 40th Melakarta raga | | {0,1,2,6,7,9,10} | |
| | 1739 | 46th Melakarta raga | | {0,1,3,6,7,9,10} | |
| | 1741 | 58th Melakarta raga | | {0,2,3,6,7,9,10} | |
| | 1747 | 52nd Melakarta raga | | {0,1,4,6,7,9,10} | |
| | 1749 | 64th Melakarta raga | | {0,2,4,6,7,9,10} | |
| | 1753 | 70th Melakarta raga | | {0,3,4,6,7,9,10} | |
| | 2471 | 3rd Melakarta raga | | {0,1,2,5,7,8,11} | |
| | 2475 | 9th Melakarta raga | | {0,1,3,5,7,8,11} | |
| | 2477 | 21st Melakarta raga | | {0,2,3,5,7,8,11} | |
| | 2483 | 15th Melakarta raga | | {0,1,4,5,7,8,11} | |
| | 2485 | 27th Melakarta raga | | {0,2,4,5,7,8,11} | |
| | 2489 | 33rd Melakarta raga | | {0,3,4,5,7,8,11} | |
| | 2503 | 39th Melakarta raga | | {0,1,2,6,7,8,11} | |
| | 2507 | 45th Melakarta raga | | {0,1,3,6,7,8,11} | |
| | 2509 | 57th Melakarta raga | | {0,2,3,6,7,8,11} | |
| | 2515 | 51st Melakarta raga | | {0,1,4,6,7,8,11} | |
| | 2517 | 63rd Melakarta raga | | {0,2,4,6,7,8,11} | |
| | 2521 | 69th Melakarta raga | | {0,3,4,6,7,8,11} | |
| | 2727 | 5th Melakarta raga | | {0,1,2,5,7,9,11} | |
| | 2731 | 11th Melakarta raga | | {0,1,3,5,7,9,11} | |
| | 2733 | 23rd Melakarta raga | | {0,2,3,5,7,9,11} | |
| | 2739 | 17th Melakarta raga | | {0,1,4,5,7,9,11} | |
| | 2741 | 29th Melakarta raga | | {0,2,4,5,7,9,11} | |
| | 2745 | 35th Melakarta raga | | {0,3,4,5,7,9,11} | |
| | 2759 | 41st Melakarta raga | | {0,1,2,6,7,9,11} | |
| | 2763 | 47th Melakarta raga | | {0,1,3,6,7,9,11} | |
| | 2765 | 59th Melakarta raga | | {0,2,3,6,7,9,11} | |
| | 2771 | 53rd Melakarta raga | | {0,1,4,6,7,9,11} | |
| | 2773 | 65th Melakarta raga | | {0,2,4,6,7,9,11} | |
| | 2777 | 71st Melakarta raga | | {0,3,4,6,7,9,11} | |
| | 3239 | 6th Melakarta raga | | {0,1,2,5,7,10,11} | |
| | 3243 | 12th Melakarta raga | | {0,1,3,5,7,10,11} | |
| | 3245 | 24th Melakarta raga | | {0,2,3,5,7,10,11} | |
| | 3251 | 18th Melakarta raga | | {0,1,4,5,7,10,11} | |
| | 3253 | 30th Melakarta raga | | {0,2,4,5,7,10,11} | |
| | 3257 | 36th Melakarta raga | | {0,3,4,5,7,10,11} | |
| | 3271 | 42nd Melakarta raga | | {0,1,2,6,7,10,11} | |
| | 3275 | 48th Melakarta raga | | {0,1,3,6,7,10,11} | |
| | 3277 | 60th Melakarta raga | | {0,2,3,6,7,10,11} | |
| | 3283 | 54th Melakarta raga | | {0,1,4,6,7,10,11} | |
| | 3285 | 66th Melakarta raga | | {0,2,4,6,7,10,11} | |
| | 3289 | 72nd Melakarta raga | | {0,3,4,6,7,10,11} | |